Honoring where you've been. Supporting where you're going.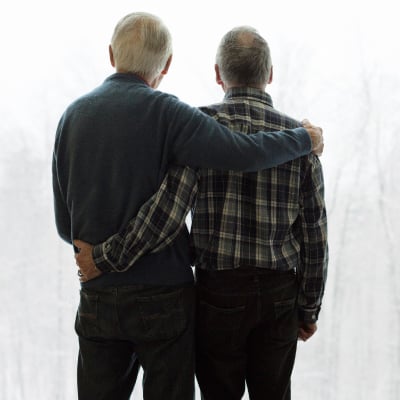 ElderPride from The LGBT Health Resource Center of Chase Brexton offers education, resources, and groups for LGBT elders and their informal caregiving networks.
Welcoming and supporting individuals of all gender identities and sexual orientations, ElderPride provides:
Counseling & behavioral health services
Financial & legal connections
Support groups
Information & referrals
Monthly Lunch & Learn workshops
Education, training, & technical assistance concerning the unique needs of LGBT Elders
LGBT Older Adults
Today, there are more than 3 million LGBT people aged 55 and older. Approximately:
1 in 3 lives alone
40 percent say their support networks have become smaller over time
40 percent have not told their health provider(s) their sexual orientation or gender identities.
Informal Caregivers
As many as 1 in 4 LGBT adults will become informal caregivers. Additionally, many LGBT older adults:
Have strained/estranged relationships with their families of origin
Have families of choice who are often not legally recognized
Forgo health care and support due to both subtle and explicit forms of discrimination
Serve as caregivers for another as they themselves are aging.
ElderPride is a program of The LGBT Health Resource Center. The Resource Center provides LGBTQ individuals and their families with welcoming access to expert health information and resources that will enhance wellness and quality of life.
To learn more, e-mail lgbt@chasebrexton.org, or call 410-837-2050 x1049.
Whether it's escorting someone to a medical appointment or making sure legal or financial paperwork is all in order, providing support for a loved one can sometimes feel overwhelming. LGBT individuals may face even greater challenges due to a lack of resources in the community, as well as laws and policies that put biological families first.
Why is informal caregiving an important part of LGBT aging?
Many LGBT older adults have strained or estranged relationships with their families of origin
Families of choice are not often legally recognized
1 in 4 LGBT adults will become an informal caregiver in their lifetime
LGBT people often forgo health care/support due to subtle and explicit forms of discrimination
Many LGBT people are caring for one another as they are aging themselves, intensifying the need for resources and support
We are all aging, and whether we're the caregiver now or will be the one in need of care, we can help you prepare for the future in ways that affirm and support you.
The LGBT Health Resource Center offers programs and groups that can help educate LGBT individuals and their caregivers about common challenges they may face.