HIV treatment works to stop the spread of HIV.
HOW? With treatment, regular check-ups, and 6 months of undetectable viral loads, HIV cannot be spread through sex.
WHAT DOES THIS MEAN? HIV cannot be passed through unprotected sex acts when HIV is undetectable! Yes: it's true. Studies prove it. Learn more below and join the conversation at UequalsUMaryland.org.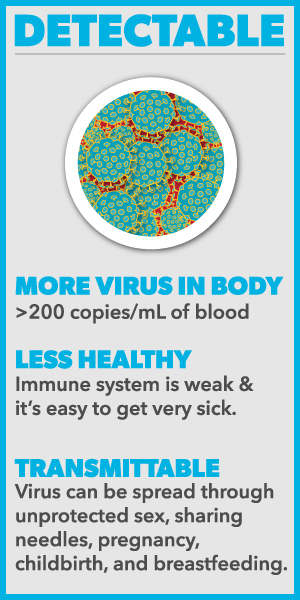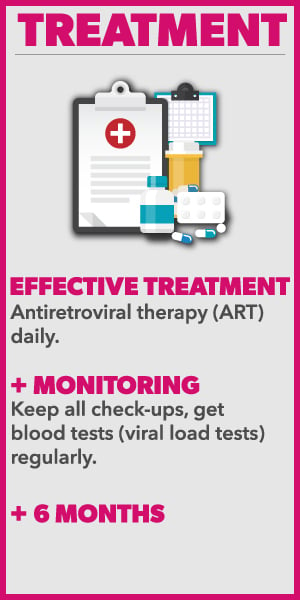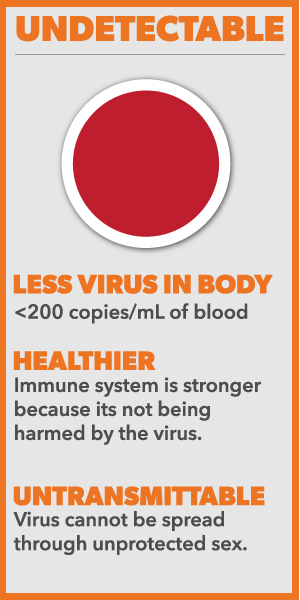 ---
FAQs
 Having an undetectable viral load does not mean HIV is cured.  The virus is still in the body. If  a person with HIV stops taking HIV treatment or misses too many doses, their viral loads will increase and they will likely become detectable. They also might need a new type of medication - HIV can become resistant to drugs.
why does UNDETECTABLE MATTER? 
Being undetectable is healthy – People with HIV who have undetectable viral loads are less likely to develop serious illnesses and have less damage done to their body.  
Having an undetectable viral load also means HIV can't be spread through sex. Win-win!
The only way a person with HIV can know if they are undetectable is to see their provider regularly for viral load tests. 
UNDETECTABLE, PREP, AND SEXUALLY TRANSMITTED INFECTIONS (STIS)
Knowing your or your partner's viral load is good. A person with HIV whose viral load is undetectable can't pass on HIV - and a person without HIV whose partner's viral load is undetectable won't get HIV from their partner through sexual activity. 
Pre-exposure prophylaxis (PrEP) is another way to protect against HIV for someone without HIV.  
Remember, of course, an undetectable HIV viral load doesn't prevent transmission of other sexually transmitted infections (STIs), like chlamydia or gonorrhea. Using condoms can reduce the risk of many STIs.