Chase Brexton's Infectious Disease Center of Excellence is a leader in prevention and treatment of HIV, hepatitis, and sexually transmitted infections.
Diagnosed with HIV and need to get into care? Call 410-837-2050 x8829.
Time for an HIV test? Free testing is available at all our locations. For hours, see below.
Want to start PrEP? Learn more about PrEP or make an appointment for our POWER PrEP Clinic.
COMING SOON! A new sexual health clinic will be opening at our Centers soon.
Chase Brexton's Infectious Disease Center of Excellence is a leader in prevention and treatment of HIV, hepatitis, and sexually transmitted infections.
With decades of experience, Chase Brexton has developed a highly successful, team-approach to infectious disease treatment that helps people overcome acute disease and allows people living with chronic infectious diseases to lead healthy and happy lives.
A TEAM FOCUSED ON YOU
Chase Brexton's Infectious Disease Center of Excellence team takes a collaborative approach to care to make sure your access to expert medical care and appointments never skips a beat. Our providers work as a close-knit team so you are able to make appointments when you need and receive care that's focused on you.
IT'S ABOUT MORE THAN MEDICINE
Our infectious disease specialists and providers work together to keep you on track and ensure you have what you need to lead your healthiest life possible. Our treatment program is more than just medicine. Your care includes:
Medical care including physical exams, diagnostic tests, and on-going care and treatment
Peer advisor support
Social work support to help with financial and insurance issues, as well as everyday life concerns
Treatment for coinfections (for example: if you have both HIV and hepatitis C)
Nutrition guidance with nutritional assessments and consultations
On-site pharmacy with pharmacists specifically trained and experienced in infectious disease medications
Medication management and education, support, and free medication delivery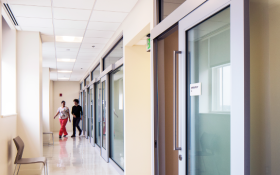 Experts In Care
You deserve the best care. Every provider on our team is a compassionate, welcoming, expert in their field. No matter which provider you see, you are seeing a provider focused on helping you live your healthiest possible life.
Learn More About Our Team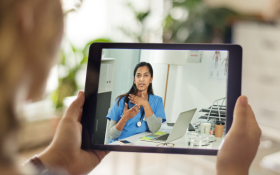 Telehealth Makes it Easier
Why come to an office if you don't have to? We believe it's easier to be healthy, when healthcare is easier. With our secure, safe, and easy-to-use telehealth system, healthcare can come to you.
Learn More About Telehealth
Communication is Key
Chase Brexton's Infectious Disease team works as a closely unified team. They communicate constantly to make sure whenever YOU need healthcare, the provider who sees you is focused on YOU.
MORE ABOUT OUR SPECIALTY AREAS OF CARE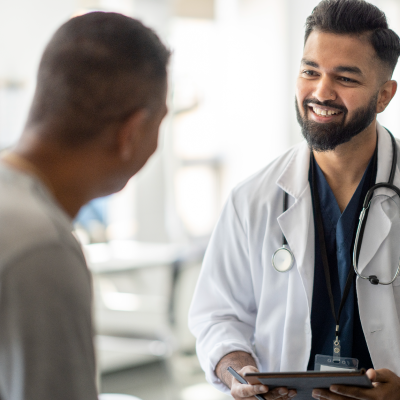 Our HIV care program is based on decades of experience, research, and success. Our goal is to help you live undetectable – meaning the HIV virus is so well treated that it can't be detected in blood tests.  
More than 90% of our patients living with HIV lead lives with undetectable viral loads. And not only does undetectable means they can't transmit HIV through sex, it means their bodies are healthier and stronger because the virus isn't causing stress and damage.
Because HIV treatment means finding the right medications and maintaining your medication routine, included in our HIV treatment is free help from our clinical Pharmacy Adherence Support Team: ASTRx. Through ASTRx, you will get "in the groove" of taking your medications on time as prescribed. Learn more about ASTRx.
Getting into and sticking with care and finding the right treatment are the keys to reaching undetectable levels. If you are living with HIV, get into care today: 410-837-2050 x8829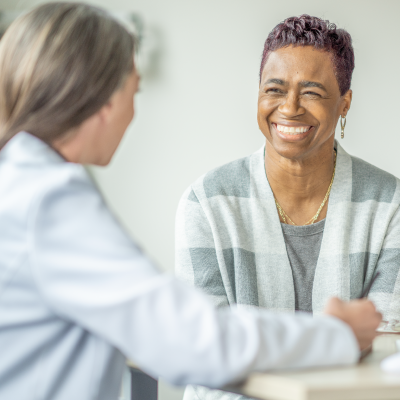 Chase Brexton can help you love your liver with testing, vaccinations, and treatment for hepatitis viruses. 
The most common types of hepatitis in the US are hepatitis A, B, and C. While there are vaccines to prevent hepatitis A and B, there is no vaccine for hepatitis C.
Chase Brexton's Infectious Disease Center of Excellence has a comprehensive and effective treatment program for patients with hepatitis. Whether it's an acute or chronic hepatitis virus, we will help you find the treatment and prevention program that will best protect your health.
If you are uncertain if you have hepatitis, your first step is to make an appointment with Chase Brexton to get tested.  After your test, your Chase Brexton provider will help you determine next steps:
If you don't have hepatitis, they will help you decide if you should be vaccinated to prevent infection.
If your test shows you have hepatitis, they will work with you to develop a care plan and get you started on treatment.
Many people have hepatitis C. In fact, more than 40% of people living with hepatitis C don't know they have it. 
About 95 percent of hepatitis C cases are cured with treatment. Treatment for most cases of hepatitis C takes 2 to 3 months. During that time, your care team will assist you with any questions, concerns, medication needs, and financial issues throughout.
By following your treatment program, you have a high chance of being cured. Not all patients will be cured. If that is the case, your care team will find the best solutions and treatment options to help you lead a healthier life. Call 410-837-2050 to get tested or to get into care today.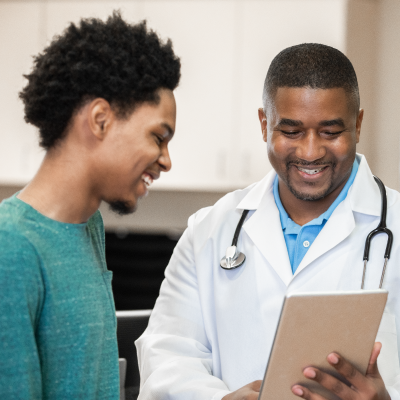 There are many ways to prevent HIV infection. Safer sex and knowing your partners' statuses are the two most prevention strategies most people know about. But now there are even more ways to prevent infection.
PrEP – Pre-Exposure Prophylaxis
PrEP is a medication for people who do not have HIV but who are at risk of getting HIV. PrEP reduces the risk of getting HIV from sex by about 99% when taken as prescribed.
PEP – Post-Exposure Prophylaxis
After unexpected exposure, PEP is started as soon as possible to reduce the risk of becoming infected with HIV. PEP is not 100% effective, but the CDC says it reduces the risk of infection by about 80%.
Treatment as Prevention – or U=U
For anyone living with HIV, with treatment, regular check-ups, and 6 months of undetectable viral loads, HIV cannot be spread through sex. Undetectable equals untransmittable.
Make an appointment with Chase Brexton to begin PrEP, PEP, or get into treatment for HIV: 410-837-2050 x8813
POWER PrEP CLINIC
Want to learn more about or start taking PrEP? Make an appointment for the POWER PrEP Clinic, available at our Mt. Vernon and Randallstown Centers. Our POWER care team provides:
Expert HIV prevention, testing, and treatment
PrEP and PEP guidance, support, and prescriptions
Support with all aspects of prevention and treatment - including dealing with copays and insurance issues for medications
By appointment only. Call to make your appointment: 410-837-2050 x8813.
Mt. Vernon Center

Randallstown Center

Tuesdays
3PM- 6:20PM

Fridays
1PM- 4:20PM

Fridays
8:20PM - 3:40PM
HIV TESTING
Knowing your HIV status is POWER! At Chase Brexton, POWER = Protecting Ourselves With Every Resource.
HIV knows no age, race, or gender biases. Anyone can get and have HIV. We all have the POWER to end HIV.
Our fast, free walk-in testing is available daily at our Centers. Learn more about our POWER Project team.
HIV testing is always free and fast - and no appointment is needed. We offer partner testing too - just bring your partner with you. Don't forget to ask about PrEP, the medication that prevents HIV infection.
HIV TESTING HOURS

INFECTIOUS DISEASE TREATMENT HOURS OF SERVICE
Infectious Disease Treatment and Primary Care follow the same hours.
Adult & Pediatric Primary Care Hours