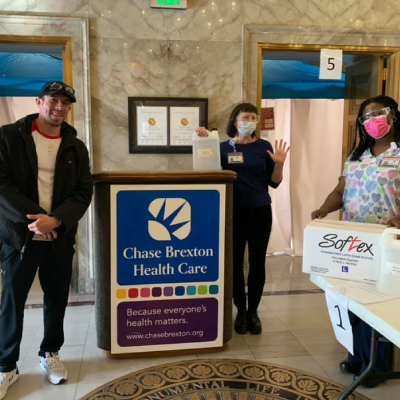 Chase Brexton Health Care has a long history of quickly and expertly responding to health crises in our communities. However, as we respond to the COVID-19 pandemic, we see greater challenges that amplify the disparities within our healthcare system and our communities.
The first priority of Chase Brexton's dedicated providers, nurses, healthcare professionals, and staff is to keep our doors open and ensure that our patients' health care needs are met. You can help our healthcare centers, providers, and patients in their critical fight against this pandemic by supporting our COVID-19 Emergency Response Fund.
Chase Brexton's ability to serve our patients is increasingly burdened by constrained resources as the national crisis continues to proliferate and health care needs of our patients and staff become more complex. Please consider a gift to the COVID-19 Emergency Response Fund to address the needs of patients and healthcare providers, and to support the evolving areas of greatest need. Your gift can help to:
Expand screening and testing capacity to reduce the burden on area emergency rooms.

$500 will help purchase 8 non-touch thermal thermometers

Provide necessary equipment and protective wear, like masks, for health care workers

$100 will help purchase 28 N95 masks

Support implementation of a telehealth strategy to reduce patient exposure while ensuring they receive continuity of care.
You can learn more about Chase Brexton's response to COVID-19 by clicking here.
All health systems are under a significant strain as we all respond to this pandemic. We are listening to healthcare experts, staff and local officials and responding quickly to meet the needs of our patients at all our Centers in Baltimore City, Baltimore County, Howard County, Anne Arundel County and Talbot County. We are working diligently to ensure that all hands are on deck. Your donation will be used in the areas of highest need